Students will be required to have snow pants and snow boots at school until Mrs. Bahlmann says they may go home. Our playground gets very muddy this time a year. Thank you for your understanding. If you need assistance with outdoor winter gear, please contact the elementary school office. Your request will remain confidential. Thank you!

It is not too late to register for kindergarten this fall! If you have not registered your child please stop by the office as soon as possible, to complete the registration process. Office Phone Number: 319.885.4311 *Children must be five years old by September 15, 2020 to attend kindergarten. *Please have your child's immunization records and birth certificate

Reminder! March 13-17 No School, Spring Break! Have a restful time!

Come see us at the Carnival! March 31st from 5:30PM - 7:00 PM!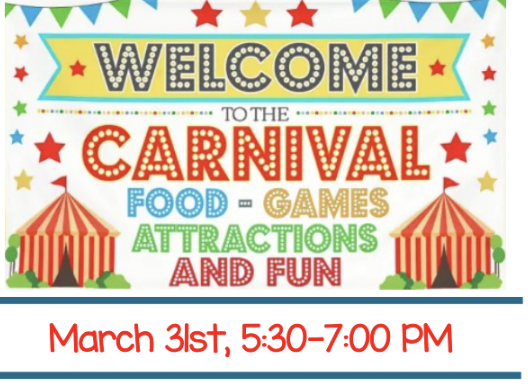 Shell Rock Informance will be Thursday, March 2 @ 5:00 PM in the Middle School Auditorium!