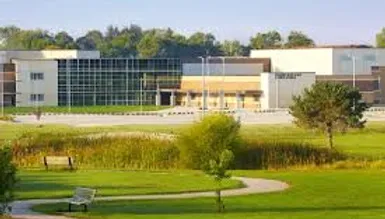 WSR Middle School serves students in grades 5-8. It was opened in August, 2011. The flood of 2008 destroyed Irving Elementary School, and WSR Junior High was also flooded for the 3rd time in 10 years. FEMA contributed over $8.9 million for replacement costs for Irving Elementary as well as $1.09 million for the safe room at the new Middle School. Local patrons passed a bond levy by 65%, and total cost for the new building was $21,829,040. All Waverly-Shell Rock students in grades 5-8 go to this attendance center. There is a total of 90 teaching and support staff at WSR Middle School.
WSR Middle School is a 170,000 square foot, state-of-the-art facility with geo-thermal heating and air conditioning. There are two classroom wings in the building which divide the age groups of students by floor. Each grade level has their own set of restroom facilities and shared resource spaces. There is an Arts Wing in the building which houses music, family consumer science, band, and art classrooms, and there is also a Wellness Wing which houses the two gyms, weight room, and multipurpose/wrestling room.
Each student is provided an iPad or Chromebook to enhance their educational experience at the school. Classrooms have teacher voice amplification systems, short throw projectors, Apple TV connections, and furniture designed specifically for the middle school child. Desks and chairs are on casters so that classrooms can be easily transformed into different learning configurations.

Principal: Jeremy Langner